Becky Edmunds
Bringing inspiration and insight to executive, leadership and organization development services.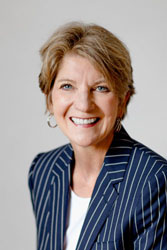 Becky Edmunds is the President and Founder of The Edmunds Group. Becky has more than 25 years of experience in providing executive and organizational development including executive coaching, talent management, team development, and leadership development. She has expertise in designing custom programs that support and align business strategy and enhance senior team interaction. In addition, she has extensive coaching experience with C-level executives and their teams.
At The Edmunds Group, Becky has assisted organizations in creating and implementing systemic and comprehensive leadership development initiatives resulting in both enhancing and developing leaders at all levels and building high-performance organizations. Her expertise lies in helping executives build greater self-awareness and enhance performance and productivity.
Prior to founding The Edmunds Group, Becky served as President of the Career and Organizational Development divisions of Williams, Roberts, Young, Inc. During that time, she managed large scale outplacement projects and designed customized training and organizational development programs. Prior to her tenure at Williams, Roberts, Young, she was a Vice-President with Drake, Beam, Morin providing career management, executive coaching, and change management programs. In addition, Becky was the Director of the Career and Life Planning Center at Johns Hopkins University, Baltimore, MD for several years before relocating to North Carolina.
Becky has post-graduate coursework in Counseling and Adult Development from the University of Maryland, accompanied by a Masters in Counselor Education from The University of Virginia. She currently serves as a feedback coach at the Center of Creative Leadership in Greensboro, NC where she specializes in executive coaching with domestic and international executives. Becky has worked domestically and internationally providing organizational development and coaching services to client companies in Asia, Europe, and Mexico.